World Championship leader Nico Rosberg is forced to retire from the British Grand Prix, handing the race lead to Mercedes team-mate Lewis Hamilton.
Follow live commentary of the British Grand Prix 2014 at Silverstone as Nico Rosberg starts on pole with Mercedes team-mate back in sixth

Lewis: "I've never been one to give up and this weekend is no different"
Nico: "That was one crazy qualifying session!"
Mit Nico Rosberg im Schlepptau überquerte Lewis Hamilton die Linie knapp vor Ablauf der Zeit im letzten Quali-Abschnitt von Silverstone. Wollte der Brite seinen deutschen Konkurrenten austricksen?

CHANGEABLE CONDITIONS THROUGHOUT QUALIFYINGFOR BRITISH GRAND PRIX  WET, INTERMEDIATE, HARD AND MEDIUM TYRES WERE ALL USED ON SATURDAY  A WIDE VARIETY OF POTENTIAL STRATEGIES PREDICTED: TWO STOPS MOST LIKELY Mercedes driver Nico Rosberg has qualified in pole position for the British Grand Prix, using the P Zero White medium tyres, which have been nominated along with the P Zero Orange hard tyres at Silverstone this weekend. But today was mostly about the Cinturato Green intermediate tyre, which was frequently used during a qualifying session that was characterised by mixed conditions. So variable was the weather that the hard, medium, intermediate and wet tyres were all used today at some point


Victory at Silverstone essential if Mercedes driver is to wrest the title initiative back from team-mate Nico RosbergLewis Hamilton, his large brown eyes wide with …
Mercedes driver Lewis Hamilton admits he made the error in aborting his final qualifying lap at the British Grand Prix.
Drivers: 1 – Nico Rosberg (Mercedes), 2 – Sebastian Vettel (Red Bull Racing), 3 – Jenson Button (McLaren) Q: Nico, a very dramatic conclusion to that qualifying session. Right at the end you took pole position. Were you surprised by how much the track improved, particularly in the final sector, right at the end, after we'd had that rain?
World championship leader Nico Rosberg retained his recent edge over his Mercedes team mate on Saturday. While Lewis Hamilton chose to abandon his final Silverstone qualifying run, thinking conditions were worsening, Rosberg continued, and – by his own admission – got lucky.
Nico Takes Pole in Dramatic Qualifying Session at Silverstone!
Nico Rosberg took pole position for Sunday's 2014 Formula 1 Santander British Grand Prix with a scintillating final run in changeable conditions at Silverstone on Saturday afternoon. In the dying moments the German clocked a lap of 1m 35.766s to knock Red Bull's Sebastian Vettel down to second and McLaren's Jenson Button into third. The other Mercedes of Lewis Hamilton dropped from first to sixth after abandoning his final run

Hamilton sixth after failing to take last lap on drying track Vettels Red Bull on front row with Mercedess title race leaderNico Rosberg took pole for …
Text commentary of the final round of qualifying at Silverstone as Lewis Hamilton hopes to overhaul Mercedes rival Nico Rosberg on home soil
Mercedes' Nico Rosberg took pole in a rain-affected qualifying session for the British GP, as Lewis Hamilton was only sixth.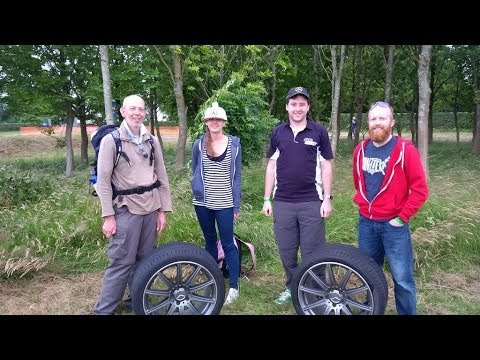 It was great to meet some of our #BestFans at Silverstone on Friday evening! Congratulations to the competition winners and thank you for following @MercedesAMGF1 Look out for more competitions on the way soon! —— Don't forget to subscribe to our channel to never miss any of our exclusive videos!

Reigning world champions Red Bull are having a tough season – just one victory, and a distant second place in the standings, with less than half the points of leaders Mercedes. The Renault power unit issues have been well publicised, but Red Bull motorsport consultant Helmut Marko believes that together they can work through them, and with double points on the table at the final round in Abu Dhabi, he insists a shot at the title is not yet out of the question

Sebastian Vettel topped the times during a wet final practice session for the British Grand Prix – the first time the world champion has done so this year – as the two Mercedes drivers opted not to set lap times in the tricky conditions
EXCLUSIVE: The Mercedes bosses were concerned that the drivers and their engineers were holding back information from one another

Der Trainings-Freitag in Silverstone hatte es mit vielen Abflügen bereits in sich. Wenig überraschend steht Mercedes an der Spitze, Alonso und Red Bull lauern.

With Finnish roots and brought up in Monaco the Mercedes driver has never been a big favourite in his homeland, but that is changing and …

With Finnish roots and brought up in Monaco the Mercedes driver has never been a big favourite in his homeland, but that is changing and he …
Table Topping Times on Historic Day for the Silver Arrows
Nico Rosberg says he will not hold back on the data he gives Mercedes after an engine issue prevented Lewis Hamilton completing his longer run in FP2 at Silverstone

Nico Rosberg ist nach den Plätzen eins und zwei im Freien Training guter Dinge. Mercedes kann in Silverstone nur ein Defekt schlagen.
Daniel Ricciardo does not believe the issues which limited his running on Friday will continue into the weekend and expects Red Bull to take the fight to Mercedes at Silverstone

El inglés Lewis Hamilton (Mercedes), que marcó el mejor tiempo en la primera jornada de entrenamientos libres del Gran Premio de Gran Bretaña, la novena prueba del Mundial de Fórmula Uno, dijo que no saben aún "cuál fue el problema" que sufrió su mon…leer la noticia completa
Lewis Hamilton clocked the fastest time in Friday afternoon's second practice for the 2014 Formula 1 Santander British Grand Prix, despite a Mercedes engine problem ending his session with half an hour remaining. Team mate Nico Rosberg, finished second, two-tenths down, with Ferrari's Fernando Alonso third, a further half a second adrift.