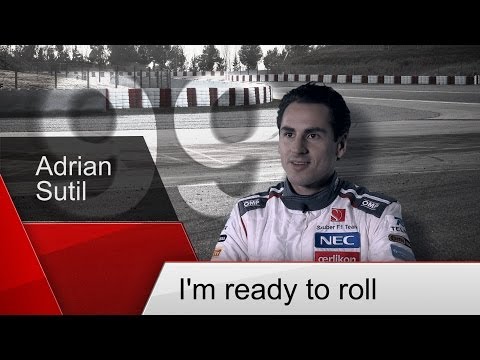 Interview with Adrian Sutil. Also watch: Monisha: The roll-out is always exciting – Esteban: It's going to be an adventure – Adrian Sutil's adrenaline is pumping as he anticipates jumping into the Sauber C33-Ferrari. Adrian on how he prepares for the 2014 Formula One season, on his thoughts about the changes in regulations and on his expections for the upcoming season.



The Sahara Force India team has surprised the F1 paddock by releasing the first image of a 2014 hybrid turbo F1 car, ahead of McLaren's planned online launch on Friday. The side shot of the VJM07 gives little away but reveals a striking new livery for the season, with new sponsorship from Sergio Perez' backer Claro, owned by Mexican Carlos Slim. This is the third F1 team Slim has been involved with, after Sauber and McLaren.
Caterham F1 have today announced Kamui Kobayashi and Marcus Ericsson as their 2014 race drivers, and in doing so have completed this year's Formula One grid. Ericsson will race with the number 9 and Kobayashi 10. The line-up has been expected in recent weeks with Kobayashi always on the verge of a race seat following his untimely exit at the end on 2012, when it seemed he had a budget in place to retain his seat at Sauber

New Caterham recruit Kamui Kobayashi has thanked his fans for their support, saying they provided him with extra motivation to return to Formula One racing in 2014. Fans sent donations to the Japanese driver after he lost his Sauber drive at the end of the 2012 season, with the hope that the funds would help him secure another slot on the grid
Sauber has announced Giedo van der Garde will join its team as a reserve driver this year, confirming that he will be replaced at Caterham

Giedo van der Garde has joined Sauber as its test and reserve driver for the 2014 season, the Swiss team announced on Tuesday. The news confirms the 27-year-old Dutchman's exit from Caterham, the squad with whom he spent his rookie season in 2013





The waiting is almost over. After all the talk of what the 2014 cars might look like in light of the dramatic rule changes for the new season, this week we will start to see them in the flesh. McLaren are in pole position, with their online launch set for Friday, closely followed by Ferrari on Saturday and Sauber on Sunday

Sauber will launch its 2014 F1 car ahead of the Jerez test with an online presentation

Sauber are to unveil their C33 chassis online on Sunday January 26, two days before pre-season testing starts in earnest at Jerez.
Sauber has confirmed it will launch its new car online on January 26 ahead of the first test at Jerez

Sauber will follow in the wheel tracks of McLaren and Ferrari next weekend when they present their 2014 car online. The Ferrari-powered C33 will be revealed on Sunday, January 26 at 1600 CET. The Swiss team are then expected to join the first pre-season test of the year at Jerez in Spain on January 28-31

Sauber dévoilera sa nouvelle monoplace, nommée C33 et motorisée par…

Sauber will unveil its 2014 Formula 1 car online during the weekend prior to the first winter test at Jerez.


Adrian Sutil says Sauber was his "dream team" to sign for after admitting he needed a change from Force India



Adrian Sutil admits he is "desperate" to get his first podium in Formula One in 2014