This week's final day of testing at Silverstone saw Lotus' Charles Pic complete 14 laps using Pirelli's proposed 2017 specification 18-inch tyres as Kimi Raikkonen's test replacement Jules Bianchi topped the times for Ferrari. The current 13-inch wheel, which was in use for all others and for Pic later in the day is expected to be dispensed with in […]
Pirelli achieved all they set out to accomplish in the demonstration of a prototype 18-inch Formula One tyre, according to the Italian company's motorsport director Paul Hembery. Lotus trialled the low profile tyres during Wednesday morning of the second day of in-season testing at Silverstone, with Charles Pic racking up 14 laps in total
Daniil Kvyat set the pace on the second morning of in-season testing at Silverstone, clocking a 1:35.544 before stopping on track in the final sector in the final hour before lunch.
Pirelli has unveiled its low-profile concept tyres in the Silverstone pit lane, wheeling them out fitted to the Lotus E22

Pirelli's experimental 18-inch Formula 1 tyres are the centre of attention during the final day of the Silverstone test, with Lotus hitting the track with the new rubber this morning.

Formula One tyre suppliers Pirelli have released digital renderings of what their prototype 18-inch tyres will look like, ahead of testing them at Silverstone on Wednesday. The Italian manufacturer has developed the low profile tyres, which will be trialled by Lotus on their 2014 car, to provoke debate about whether such rubber should be used in F1 racing in the future

The Lotus F1 team needs to perform better than it has been doing. The year was somewhat compromised by an awful money-free winter, which meant delays with the new car, job losses and a complicated ownership/management situation. That was no bad thing as the people now in control understand that you need to cut your […]
Sauber's Esteban Gutierrez will drop three places on the grid at the next round in Germany after Silverstone stewards decided he was 'predominantly at fault' for a coming-together with Lotus's Pastor Maldonado during Sunday's 2014 Formula 1 Santander British Grand Prix

Lotus's Pastor Maldonado has been excluded from the results of qualifying in Great Britain after his car was found to be carrying an insufficient amount of fuel to provide the mandatory post-session sample. The Venezuelan lapped in 1m 44.018s in Q2 – good enough for 15th place – but subsequently parked his E22 at the side of the track after his fuel tank ran dry – something Lotus put down to a 'fuel calculation error'

Romain Grosjean (Lotus – 11e) : «Ce fut une bonne séance malgré ce…
Renault power dominated the timesheets in a wet third practice session for the 2014 Formula 1 Santander British Grand Prix on Saturday morning. Sebastian Vettel topped a session for the first time this year, as he headed Daniel Ricciardo for a Red Bull one-two. The Lotus cars of Pastor Maldonado and Romain Grosjean were third and fourth, with Sauber's Adrian Sutil fifth.

Pirelli will be introducing a new 18-inch tyre design concept to showcase the way that Formula One could look in the near future. The fully functional tyre design will enable demonstration runs around Silverstone during the forthcoming in-season test from next Tuesday to next Wednesday (8-9 July).
Pirelli will test low-profile tyres at next week's in-season test, putting larger 18-inch rims on the Lotus to see what a Formula One car would look like with tyres closer to a road car's


Having joined the Lotus from Williams, Pastor Maldonado was hoping to be a regular podium finisher, but instead reliability issues have prevented him from registering a single point. Even more galling for the Venezuelan, his former team have been consistently mixing it at the sharp end.

There has been a lot of speculation about what will happen next for Kimi Raikkonen, who has had a difficult season since his move back to Ferrari. He has not looked the same driver whose return to F1 with Lotus was so garlanded with podiums and race wins. He has had problems with various aspects […]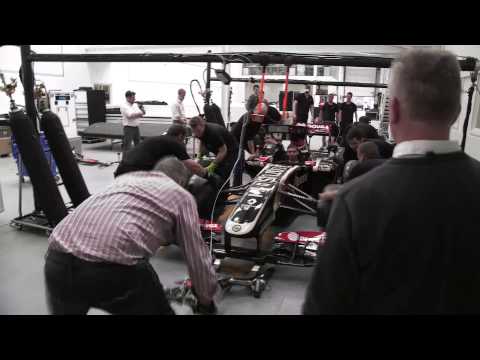 Chroniques d'une saison de F1 avec #r8main : Pour ce quatrième épisode de The Pretender, nous vous emmenons dans les coulisses de la préparation du Grand Prix d'Angleterre avec Romain Grosjean. Ce week-end, les pilotes ont rendez-vous sur le circuit de Silverstone. Situé à quelques dizaines de kilomètres de l'usine du Lotus F1 Team, c'est le Grand Prix à domicile de la saison pour Romain et son équipe
Pastor Maldonado does not think a switch to Mercedes power would guarantee success for Lotus as rumours the team is set to ditch Renault gather pace

Switching to Mercedes engines would not instantly cure the Lotus Formula 1 team's problems, reckons Pastor Maldonado, as the squad investigates a split with current supplier Renault.
Romain Grosjean is determined to get back into a winning car and has said that might mean leaving Lotus at the end of the year
Federico Gastaldi believes Lotus needs a strong result at Silverstone after seeing all the positives from the Spanish Grand Prix and the subsequent Barcelona test undone in the last few races
The word on the street is that Lotus F1 Team, the old Renault F1 factory team, will shortly announce that it will become the fourth Mercedes team, replacing McLaren, and joining Mercedes GP Petronas, Williams F1 and Force India using the German firm's V6 engines. The news if it is confirmed is a big boost […]

 British Grand Prix Preview: Silverstone, 3-6 July 2014  HARD AND MEDIUM TYRES FOR THE HIGHEST LATERAL ENERGY LOADING OF THE YEAR VARIABLE WEATHER MAKES STRATEGY HARD TO PREDICT THIRD IN-SEASON TEST OF THE YEAR TO TAKE PLACE AFTER BRITISH GRAND PRIX, WITH FERRARI, MARUSSIA, RED BULL AND LOTUS ALL TESTING FOR PIRELLI Milan, June 30, 2014 – Formula One heads to Silverstone, the home of British motorsport (with no fewer than eight teams based in the UK) and also a second home race for Pirelli, with the company's logistics hub and 'centre of excellence' based in Didcot, less than an hour away from Silverstone. The track is well known for being one of the fastest of the year, putting a high-energy load through the tyres. Making the challenge even harder is the fact that the weather is usually variable, with a high chance of rain at some point during the weekend and a notoriously wide range of temperatures and wind speeds.
At the Moscow Raceway, Kevin Jörg (Josef Kaufmann Racing) got the better of Nyck de Vries (Koiranen GP) to take his maiden victory in the Eurocup Formula Renault 2.0. After starting from pole, the Dutchman was overtaken on the opening lap but did finish second to allow him to pull away from championship rival Bruno Bonifacio (Prema Powerteam), who failed to score on Sunday. Lotus F1 Junior Team driver, Alexander Albon (KTR) crossed the line in third position to pick up his first podium (…) – Press Releases