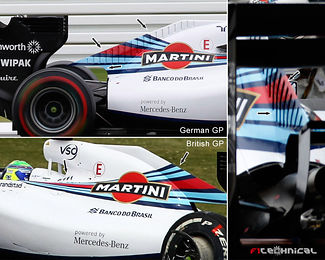 Williams introduced a new cooling solution on its FW36 this weekend at Germany by adding a series of small apertures on the legality fin of the airbox cover. The small extension on the airbox cover is there only to fit the minimum area rules of the bodywork, but Williams have found a new use by creating fins to provide engine cooling. Many teams have small apertures in this area for cooling, but Williams' solution surely is elaborate.


2014 German Grand Prix – Race NICO ROSBERG WINS HIS HOME GRAND PRIX WITH TWO-STOP STRATEGY HAMILTON MAKES UP 17 PLACES WITH THREE-STOP STRATEGY SOFT AND SUPERSOFT TYRES ENSURE CLOSE RACINGFROM START TO FINISH Hockenheim, July 20, 2014 – Nico Rosberg has extended his championship lead by winning his home grand prix, using a two-stop strategy with one stint on the P Zero Red supersoft followed by two stints on the P Zero Yellow soft tyre. It was the first time that Rosberg had ever finished on the podium at the German Grand Prix, but the 300th podium finish for Williams, courtesy of Valtteri Bottas – on the podium for the third consecutive time.
Williams' dazzling run of form continued in Germany with Valtteri Bottas notching his third successive podium finish. The Finn's second place lifted the Grove-based squad above Ferrari in the constructors' standings, but as deputy team principal Claire Williams explains in this exclusive interview, Williams have already got their eye on catching second-placed Red Bull
Valtteri Bottas says he and Williams needed to call on all their combined skills to keep Lewis Hamilton at bay and hold on to second place at the German Grand Prix
DRIVERS: 1 – Nico Rosberg (Mercedes), 2 – Valtteri Bottas (Williams), 3 – Lewis Hamilton (Mercedes) PODIUM INTERVIEWS (Conducted by Kai Ebel) Q: Nico, how sweet is the taste of the home victory champagne? Nico Rosberg: It's fantastic.
Mercedes' Nico Rosberg drove a faultless race at Hockenheim on Sunday afternoon to earn his first career victory on home soil. The German started from pole position and was never headed, whilst behind him Williams' Valtteri Bottas drove superbly to take second place and see off a late charge from the recovering Mercedes of Lewis Hamilton, who started 20th and finished third