Nico Rosberg believes Williams are definite contenders for Melbourne, but feels confident all the Mercedes-powered teams have the edge going into the 2014 season
Vatteri Bottas returned Williams to the top of the timesheets on the final morning of pre-season testing



Felipe Massa is "really happy" with his Williams after it took him to the top of the timesheets on his final day of pre-season testing on Saturday


Felipe Massa reconfirmed Williams' strong showing in testing by posting the fastest time on the penultimate day of Formula One pre-season testing in Bahrain today, ahead of Nico Rosberg and Kimi Raikkonen. The former Ferrari driver also logged 99 laps as elsewhere Red Bull Racing and Lotus once again struggled. After completing over 230 laps around the Sakhir circuit across the opening two days this week, today saw the team demonstrate the FW36′s raw pace, Massa setting the fastest time seen in Bahrain this year, a 1:33.258, in the final minutes of the day on Pirelli's supersoft tyre.

There were contrasting fortunes on display on the third day of the final pre-season test in Bahrain on Saturday. Whilst Williams' Felipe Massa was able to record the fastest time seen at the Sakhir circuit so far this winter, reigning world champions Sebastian Vettel and Red Bull had another day to forget as they failed to complete a single lap
Williams' Felipe Massa set the fastest time at Bahrain so far this year on the penultimate day of testing as Red Bull's gremlins returned to restrict world champion Sebastian Vettel to just one lap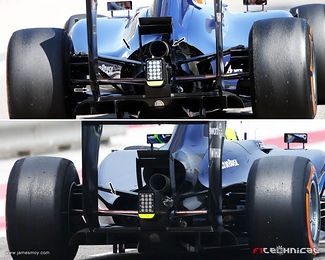 Williams have enjoyed several extremely productive testing days so far, and with the end of the tests nearing, the team is applying and testing new aerodynamic parts. One of the bigger upgrades fitted on the FW36 on Thursday with Bottas and Friday with Massa is the new rear bodywork featuring wider sidepod exits and a central funnel that blows hot sidepod air around the exhaust.
Felipe Massa believes the new generation of F1 cars will make it increasingly difficult for younger drivers to make an impression unless they can harness their instinct to drive fast all the time


Having parted ways with Williams, the team who brought him into Formula One racing, Pastor Maldonado is now determined to impress for Lotus. We sat down with the race-winning Venezuelan to discuss the reasons behind his move from Grove to Enstone, his thoughts on partnering Romain Grosjean, and whether Lotus will be able to overcome their pre-season technical setbacks in time for Melbourne