McLaren
On the surface, this year's MP4-29 chassis was a logical evolution of last year's car. However, the new-for-2014 powertrain regulations – which saw the end of the 2.4-litre, naturally aspirated V8 era, which began in 2006, and the introduction of all-new 1.6-litre turbo V6 with sophisticated energy recovery systems – meant a thorough overhaul of the design. Valuable lessons learned during '13 were…
Why should we leave it to the summer to host all the best sporting contests? If the Olympics and the World Cup have become synonymous with sunny celebrations in the outdoors, we at McLaren wanted to create a sporting event that could be enjoyed indoors, on your computer, probably while nursing a warm cup of tea and recovering from a heavy winter cold. In that spirit, we present #McLarenBattles – a…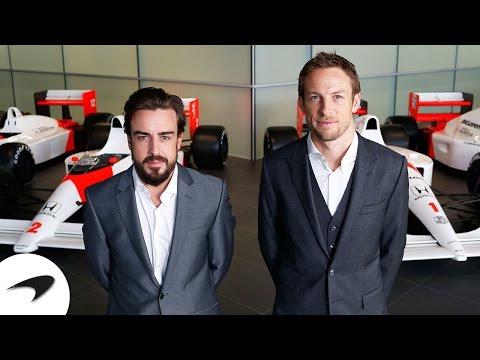 On the 11th December 2014, McLaren-Honda, Jenson Button and Fernando Alonso were united at the McLaren Technology Centre for the first time. We invite you join us behind the doors of the MTC, as our new era in Formula 1 begins.
2007 Malaysian Grand Prix INLINE-MEDIA BIG The newly crowned double world champion's speed in the McLaren MP4-22 was clear to see right from the word go. Fernando Alonso arrived in Malaysia, the second round on the 2007 calendar, buoyed by his runner-up spot in the season-opener in Melbourne. However, he knew that the challenge from Ferrari would be significant
To celebrate the beginning of a new McLaren-Honda era, test and reserve driver Stoffel Vandoorne wound back the clock and took Ayrton Senna's championship-winning McLaren-Honda MP4/4 and MP4/6 for a spin around Silverstone.  Firing up the cars and sending them out of the garage looks like a relatively simple operation – but looks can be deceiving.
In golf, they call it the '19th hole' – the clubhouse where weary players convene to swap stories and share a drink or two at the end of a day on the fairway. In Scotland, the 19th hole is a well-known tradition – after all, the country is not only home to some of the most challenging golf courses in the world, but also to John Walker & Sons' once-family-run distillery, which became the most famou…