The British driver is aiming to go out in style in what will be his final Grand Prix for McLarenHow will you feel on Sunday?I really have no idea. When I lost the championship I was quite numb, when I won the championship I was relatively numb because I lost it, had it, lost it, had it. I was confused emotionally – just emotionally drained.
Kimi Räikkönen spricht im Interview über sein Qualifying und blickt auf den Brasilien Grand Prix.
Romain Grosjean estime que Pedro de la Rosa a trop résisté pour rester devant lui en qualifications à Interlagos. Kimi Räikkönen a souffert.
Am Sonntag steht der neue Weltmeister fest. Motorsport-Magazin.com analysiert alle wichtigen Faktoren zum Duell zwischen Sebastian Vettel und Fernando Alonso.
Already at the US GP in Austin 7 days ago, Mercedes AMG surprised by fitting Nico Rosberg's car with the old exhaust solution, favouring it over the Coanda solution that the team development following the example of McLaren. In Austin, the team wanted to do a direct on-track comparison to see the benefits and disadvantages of the Coanda exhaust solution. It is no secret that ever since its introduction, the team failed to get it to work properly, while the downwash of the exhaust gases also heat up the rear tyres
Fernando Alonso sait qu'il a besoin de circonstances particulières pour être champion après les qualifications au Grand Prix du Brésil.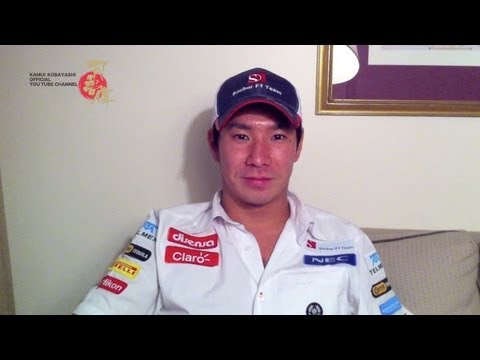 F1ドライバー小林可夢偉の2012年F1第20戦ブラジルGP・予選後のビデオコメントです。 This is Formula One driver Kamui Kobayashi's video comments after Qualifying for Rd.20 Brazilian GP in Japanese.
… träumen Sebastian Vettel und Fernando Alonso vom Titelgewinn, tüfteln die Wetterfrösche und weint Lewis Hamilton in sein Kopfkissen.
Red Bull 2011 oder Brawn GP 2009? Martin Whitmarsh meint, solch überlegene Saisonen sind dank der Stärke des Feldes kaum noch zu schaffen.
Felipe Massa insists there will be no change to his approach ahead of Sunday's Brazilian Grand Prix despite starting between the two title contenders on the grid
2009 champion believes he could benefit from team-mate's move to Mercedes by winning another world championshipJenson Button believes he will benefit from Lewis Hamilton's move to Mercedes, saying it will give him the best chance to win another Formula One world championship."Definitely. I am sure Checo [Sergio Pérez, Hamilton's replacement at McLaren] is going to score a lot of points, but when you compare it to Lewis and myself, when you look at our three years together, we have been taking points off each other," Button said. "Over the three years, Lewis has 10 points more than me
Lewis Hamilton leaves McLaren and Michael Schumacher brings an end to a forgettable three-season comebackHAMILTON AT McLARENWhether Lewis Hamilton, part of the team's set-up since he was 13, would stay dominated discussion. He did not.
Lewis Hamilton et Jenson Button sont les mieux placés pour la victoire après les qualifications au Brésil. Ils sont tous les deux en première ligne.
The rain did its best to spoil Q1, but after Hamilton had dominated that conditions improved for Q2 and Vettel took a turn at the front. Hamilton, however, had the answer for both runs in Q3 which proved the fastest of the weekend, and Button jumped up to second ahead of Webber and Vettel as Alonso could do no better than eighth. With rain expected tomorrow, many teams ran compromise aero set-ups
Sebastian Vettel n'a pas réussi un tour parfait en qualifications à Interlagos. Il sera quatrième sur la grille mais il reste satisfait de ses performances.
Kamui Kobayashi hat die Hoffnung auf ein Cockpit 2013 noch nicht aufgeben. Die Rolle als Testfahrer kommt für ihn nicht in Frage.
Bruno Senna könnte am Wochenende sein letztes Rennen für Williams fahren, da das Team gerade in der Umstrukturierung steckt. Wo führt sein Weg hin?
Pastor Maldonado ist sich keiner Schuld bewusst. Dass er der Aufforderung zum Wiegen nicht nachkommt, erklärt er wie folgt: Die Ampel ist zu spät angegangen.
Lotus driver Kimi Raikkonen bounced back from his problems in practice to qualify in the top-ten for Sunday's Brazilian Grand Prix