Determinar cuál de los dos pilotos es el más rápido no deja de ser una entelequia en una disciplina donde tiene tanto peso el componente mecánico
F1 driver fights back against trend towards technicians or coaches micromanaging teams through radios or from touchlinesNotoriously a man with little to say for himself, Kimi Raikkonen certainly made his words count as he sped to victory in Sunday's Abu Dhabi Grand Prix.When his race engineer came on the radio to inform him of the gap to the pursuing Ferrari of Fernando Alonso, the Finn's reply was blunt and pointed: "Just leave me alone. I know what I'm doing." Late in the race the same voice came through his earpiece, telling him to remember to warm up his new set of tyres.
Lotus F1 boss Eric Boullier says that Kimi Raikkonen's victory in Abu Dhabi shows that the team is now capable of competing with major rivals, despite it having limited resources relative to the established frontrunners. In addition the result won't … Continue reading →
• 'This has been the worst year,' says the British driver• Lewis Hamilton talks of 'four hardcore difficult weekends'Jenson Button, the Formula One world champion three years ago, has described his McLaren car as the worst he has had in three years at the team.The 32-year-old British driver, who finished fourth in Sunday's Abu Dhabi Grand Prix, said: "This car hasn't suited me as well as McLaren's last two. Since I've been here this has been the worst year. It's been tricky, even on good weekends
El periodista externo Víctor Seara percibió 125.000 euros en 2010, 105.000 euros en 2011 y otros 35.000 en 2012
After a season punctuated by unreliability and mistakes Lewis Hamilton says that McLaren didn't do a good enough job to win the 2012 World Championship In Abu Dhabi Hamilton dropped out of the lead with a mechanical issue for the … Continue reading →
McLaren set a Formula One record in Abu Dhabi on Sunday, though Lewis Hamilton found no consolation in this.
Maranello, 5 November – Five drivers chosen by the Ferrari Driver Academy, along with the CSAI and the Vallelunga Federal School today underwent a thorough check-up at the CONI Institute of Sports Medicine and Science at Acqua Acetosa
Six équipes vont participer aux essais dédiés aux jeunes pilotes cette semaine à Yas Marina. Nicolas Prost va faire son premier véritable test.
Die Stammfahrer haben Pause, dafür dürfen die F1-Fahrer von morgen ran: Red Bull, McLaren, Lotus und Co. bei den Young Driver Days in Abu Dhabi unterwegs.
Sauber team boss Monisha Kaltenborn has urged McLaren-bound Sergio Perez to remember that helping his current squad to a strong finish to the Formula 1 season is still important for his career and reputation
Formula 1′s final young driver test of the season kicks off in Abu Dhabi on Tuesday, with Red Bull and McLaren among the six teams running.
After four years in the winning wilderness, the hard work and dedication shown by every member of the 500+ Enstone family on a daily basis came to fruition yesterday evening as Kimi crossed the line in Abu Dhabi to take a superb victory, and nobody deserves it more than these guys. We caught up with a few grinning faces around the factory to hear their thoughts Andy Birch, Car Build Mechanic: After so many near misses this year, I think some people were starting to think we'd have to wait (…) – News
Red Bull weiß noch immer nicht, wo genau das Problem bei Vettels Kraftstoffzelle in Abu Dhabi lag. Das Team sei nun auf Renaults Aufklärungsarbeit angewiesen.
Luca di Montezemolo musste Fernando Alonsos Rennen in Abu Dhabi zwar in höchsten Tönen loben, mit der Leistung des Autos war er aber nicht zufrieden.
Maranello, 5 novembre – Siamo al rush finale e la Ferrari è lì, come praticamente accade quasi sempre dal 1997 in avanti, a giocarsi le sue chance per i due titoli iridati.
Beim Abu Dhabi GP standen mit Kimi Räikkönen, Fernando Alonso und Sebastian Vettel drei Fahrer auf dem Podium, die Grund zu feiern hatten – oder nicht?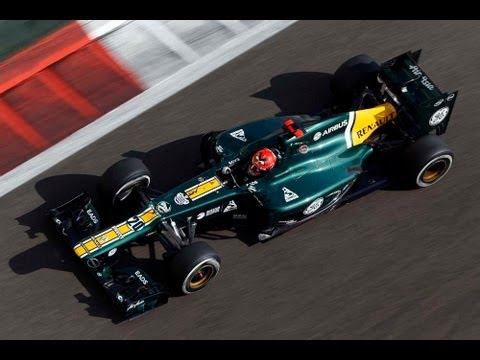 Take two minutes out of your Monday to see Caterham F1 Team's weekend at the Yas Marina circuit, Abu Dhabi in pictures. Caterham F1 Team See our website – Follow us on Twitter – See our Facebook page – Subscribe to our YouTube channel –