The much discussed entry fee hike for F1 teams was confirmed this week, as the 2013 Sporting Regulations were published by the FIA. Under the new rules for 2013, the team that wins the constructors' championship will pay a basic fee of US$500,000 and then $6000 US for every point scored. The other teams will pay the same basic fee plus US$5000 per point.
The McLaren Production Centre, situated alongside the McLaren Technology Centre Formula One base in Woking, has received the Judges Special Award at the 25th anniversary of the British Construction Awards, held in London this week. The MPC, which is the base of McLaren Automotive, houses the manufacturing and design processes of the groups high-performance cars, such as the MP4-12C, and has been rewarded with the accolade as it is regarded to be a civil engineering project that is particularly inspirational. Opened in November 2011 at a cost of £800million by the British Prime Minster David Cameron, the site is largeMore…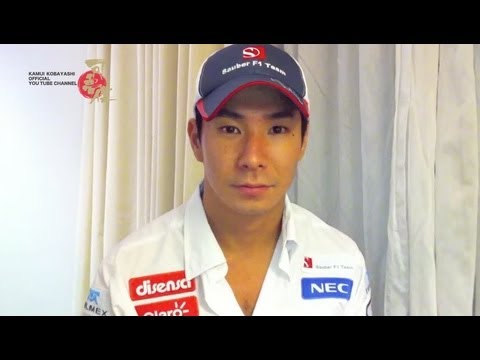 F1ドライバー小林可夢偉の2012年F1第18戦アブダビGP・金曜フリー走行後ビデオコメントです。 This is Formula One driver Kamui Kobayashi's video comment after Friday practice for Rd.18 Abu Dhabi GP in Japanese.
Red-hot technical whiz behind F1 success tells Tom Cary he is glad not to be recognised in his local .
Caterham performance director John Iley is hopeful the package of upgrades the team has brought to Abu Dhabi will ultimately be worth around three tenths of a second in lap time to the team. Having fallen behind Marussia in the battle for lucrative tenth place in the constructors' championship four races ago in Singapore, Caterham has just three weekends left to try and redress the balance and, in its on-going bid to catch the back of the midfield, unveiled a series of updates on the CT01 this morning in first practice. Caterham's deficit to Q2 has been consistently over aMore…
Lewis Hamilton and Jenson Button have mixed feelings on how their McLarens will perform at the Abu Dhabi Grand Prix.
Les photos de la première journée d'essais à Yas Marina, avec le meilleur temps de Sebastian Vettel devant Lewis Hamilton et Jenson Button.
Red Bull's Sebastian Vettel admits he will be wary of McLaren's Jenson Button and Lewis Hamilton at Saturday's qualifying for the Abu Dhabi Grand Prix.
Team representatives – Andrew Green (Force India), Antonio Cuquerella, (HRT), Remi Taffin (Renault Sport F1), Ross Brawn (Mercedes), Pat Fry (Ferrari). Q: A question to you all about engines at this stage. It gets towards the sharp engine of the season and people are running out of mileage on their engines
• Red Bull may face levy of $3m, a rise of more than 600%• Smaller teams must pay $500,000 plus $5,000 a pointFormula One teams face a potentially devastating rise in the fees they must pay to enter next year's world championship. The FIA, the sport's governing body, has unveiled a new, two-tier structure based on the number of points won in this year's championship.With three races remaining Red Bull – who are expected to clinch the constructors' championship this weekend – would have to pay $2.942m (£1.8m), an increase on last year of more than 600%. But of course that will increase according to how many points they win in Sunday's race, in Texas and in Brazil.The 11 other teams will pay the same base fee of $500,000, plus $5,000 per point.
Continua l'iniziativa del sito ferrari.com inaugurata al Gran Premio di Spagna e dedicata a tutti gli utenti di Scuderia Ferrari Community
Briton says German misses a lot of corners and rates Alonso as "more accurate" of two title contenders.
Lee McKenzie is joined by Marussia test driver Max Chilton for Friday's Inside F1 from the Abu Dhabi Grand Prix.
Abu Dhabi, 2 novembre – Per la seconda volta in questa stagione, dopo il Gran Premio di Singapore di settembre, qui a Yas Marina tutti gli appassionati potranno godersi lo spettacolo
McLaren's three previous team principals have won 12 drivers' and eight constructors' F1 world championships between themMartin Whitmarsh was on a plane between Japan and South Korea when during a conversation with his former driver Martin Brundle, the Sky TV frontman turned round to him and said: "You fired me!"Whitmarsh says: "The funny thing was that Martin was one of five drivers on that flight, and I'd fired the lot of them."The McLaren team principal tells the story in an attempt to destroy an image of him that most men would covet. For Whitmarsh can be perceived as a decent man, a voice of reason in a world where the sound of screaming is not confined to the finely-tuned V8 engines on the grid. Whitmarsh, in a different age, might have been played by Henry Fonda – Twelve Angry Teams, perhaps.And yet, for all the decency, he is only the fourth principal of a team who will be 50 next year – and the other three have won 12 drivers' and eight constructors' world championships between them