• Team championship can be clinched in Abu Dhabi• Sebastian Vettel out to equal Sir Jackie Stewart's 27 winsChristian Horner on Thursday hailed Red Bull's third successive year of domination in Formula One as "for sure our biggest achievement." And the team principal suggested that Sebastian Vettel could go on to emulate and even beat Michael Schumacher's record of seven titles when he said: "I can quite easily see him with us for another five years."Red Bull are poised to become only the fourth team to win a hat-trick of constructors' championship in Abu Dhabi this weekend. Vettel, meanwhile, is favourite to land another hat-trick – the drivers' title – in Texas or Brazil later this month.Horner could be forgiven his moment of pride, because his claims are justified. Formula One, dreading another period of monotonous domination so soon after the Schumacher/Ferrari era, changed the rules this year, especially in relation to the blown diffuser and the flexi-wing, to emasculate the runaway bulls from Milton Keynes.The plan was to drag Red Bull back into the pack.
Team principal Horner has jumped to defence of star driver and insists he can get even better.
F1 world champion Sebastian Vettel is taking nothing for granted ahead of Sunday's Abu Dhabi Grand Prix.
Jean-Eric Vergne pense qu'il sera plus performant en 2013, avec plus d'expérience. Le Français sait qu'il doit progresser en qualifications.
• Mercedes suffering worst run since return to F1 • Hamilton 'more driven' to scoring points for struggling teamLewis Hamilton has said he has had no second thoughts regarding his move to Mercedes in the wake of their dismal form.Since Hamilton announced he was quitting McLaren after 14 years and signing a three-year deal with Mercedes, the German team have failed to score a point in three races.It is Mercedes' worst run since they returned to Formula One at the start of 2010, in contrast to the fact that in their previous 52 grands prix they had missed scoring on only four occasions.It would further appear to highlight the folly of Hamilton's switch, which he has long stated was because he wanted a new challenge. On the evidence of Mercedes' woeful run, it may be he has bitten off more than he can chew if he is hoping to revive their fortunes.Asked about Mercedes' run, Hamilton said: "It makes me even more driven to help them score points, and no, I'm not thinking 'have I made right decision?' I'm very happy with the decision I made. What is happening to them doesn't have any impact on that."People do sometimes lose their way.
Sebastian Vettel lässt sich von Fernando Alonsos Sticheleien nicht beeindrucken. "Wir respektieren uns", sagt der Red Bull-Pilot, der mit seinem Team in Abu Dhabi den Konstrukteurs-Titel holen könnte. Mehr zum ThemaNico Hülkenbergs Wechsel zu Sauber: "Es war keine einfache Entscheidung"Lotus Coanda-Auspuff: Die Nebenwirkungen des Coanda-AuspuffWie sieht Schumis Zukunft aus?: Schumacher: "Ich werde nicht sehr leiden"Ferrari macht mobil: Alonso: "Müssen Red Bull unter Druck setzen"Sebastian Vettel und Lewis Hamilton: Das Geheimnis der Abu Dhabi-Spezialisten
Fernando Alonso a conscience que Ferrari devrait être à nouveau dominée par Red Bull à Abou Dhabi, mais il fera tout pour battre Sebastian Vettel.
La 'Scuderia' insiste en la buena relación con Alonso a pesar de la remontada de Vettel. Por ORIOL PUIGDEMONT
Mercedes team principal Ross Brawn has said he is hoping for a 'stronger result' this Sunday in Abu Dhabi
Kamui Kobayashi is 'confident' he will get a drive next season and believes he has earned his place in the top flight
Coming soon: the first series of McLaren Animation's hit show Tooned on DVD.
A due anni dalla sua inaugurazione al pubblico, i piloti della Scuderia Ferrari sono tornati a far visita al Ferrari World Abu Dhabi, il parco tematico dedicato alla Casa di Maranello sull'isola di Yas Island, dove hanno provato la nuova attrazione del parco, "Viaggio in Italia", un'emozionante esperienza in quattro dimensioni ambientata tra natura e paesaggi. Two years on from its opening, the Scuderia Ferrari drivers were back at Ferrari World Abu Dhabi, the theme park dedicated to the Maranello marque on Yas Island, where they tried its latest attraction, "Viaggio in Italia" (a trip round Italy,) which is an exciting four dimensional experience through the countryside. Follow us on Facebook and Twitter Ferrari Since 1947
We've had some pretty exciting competitions on JA on F1 and have sent many first time fans to Grands Prix, who would not have had the chance to go otherwise. Now we are at it again with a superb opportunity thanks to our partner UBS and to the MERCEDES AMG PETRONAS Formula One Team.
Jedes Jahr im Sommer kommt der Formel-1-Bolide von Mercedes nicht mehr voran. Aber Mercedes macht in Optimismus: Im nächsten Jahr soll alles besser sein.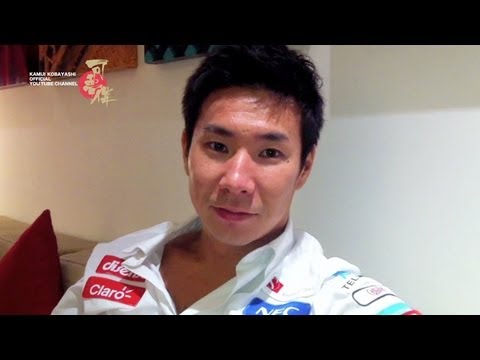 F1ドライバー小林可夢偉の2012年F1第18戦アブダビGPプレビュービデオコメントです。 This is Formula One driver Kamui Kobayashi's preview video comment for Rd.18 Abu Dhabi GP in Japanese.
The Marussia F1 team made a loss of 49 million last year and it is now said to be looking for new investors to stay afloat, it is being reported.